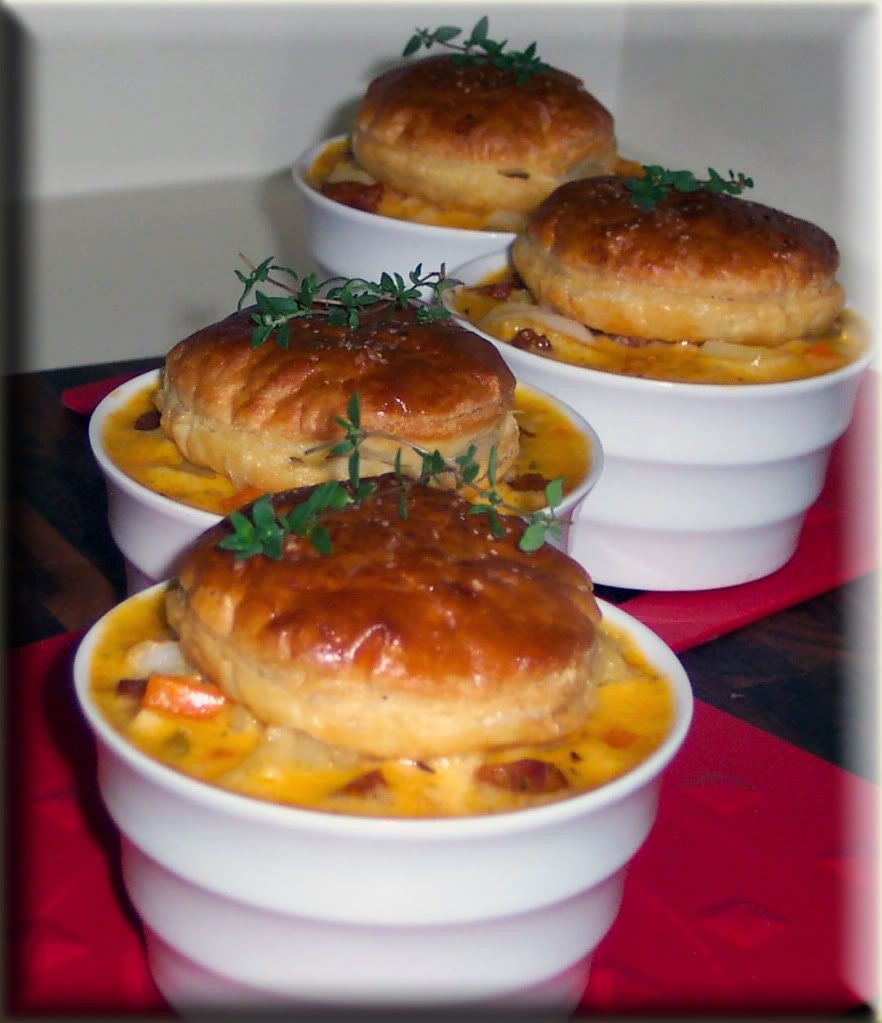 We are on a tight budget nowadays.  Basically, this means I am trying to empty the freezer of all goods before buying any new proteins.  I tend to save everything.  I really never toss extra food out.  So what this means is there is a lot of random food in the freezer.  This recipe came to be because I've had a half sheet of puff pastry in my freezer for a few months now.  It's been sitting there waiting to be made into a Salmon En Croute, but I don't see myself spending the coin on fresh salmon for a few months so I needed to come up with something else.
I poked further into the freezer and saw a little over a half of pound of shrimp, along with random sausages and of course plenty of turkey, chicken, and seafood stock.  So I went onto epicurious.com with an idea for a pot pie.  I figured I could find something to do with shrimp or sausage.  I got lucky and found this gem of a recipe for Shrimp and Andouille Pot Pies! Of course I did not have Andouille sausage so I subbed in some Linguica instead.  To make this recipe work for us I halved it, used onion instead of leeks, added carrots, celery and most importantly used homemade seafood stock.  Stock is another godsend of my frugal powers.
Full Recipe
Let's just take a moment to appreciate the photo.  Gosh she is pretty.  Some of my dishes photo really well; and then there is this pasta.  This dish steals all the thunder of any of my other posts (well maybe bacon looks better, but you get the point).  Rarely do I get a photo that demonstrates how truly wonderful my food taste, well that up in till now.  This is one of those moments, let's just stop and take in the beauty of this pasta.  The colors and textures are so vivid; I bet you could almost smell it. . .  Can't you?
This recipe does not need to be made with both scallops and shrimp, it does not need to be made with jumbo sized shrimp and large scallops.  The cooking time just needs to be adjusted depending on the size of the seafood you choose.  So if all you have is shrimp, use shrimp.  Use what you have.
Full Recipe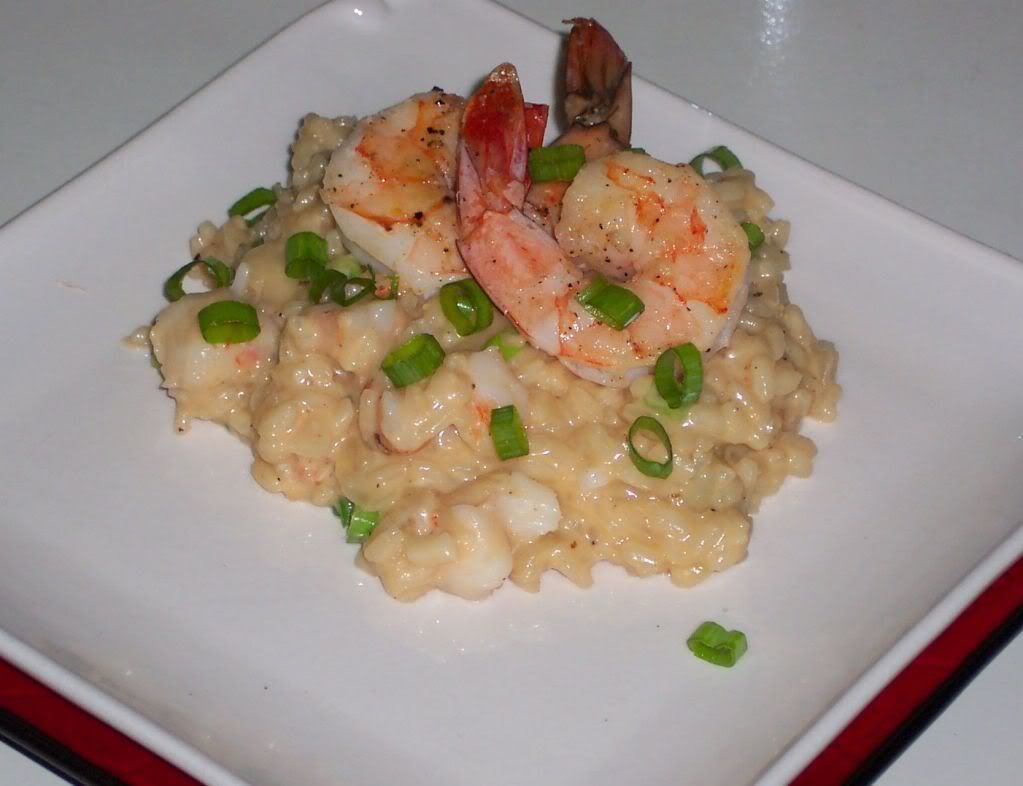 Before I started making Risotto I assumed it was a fancy dish that required time and fancy ingredients to make.  I find myself making Risotto often with left over items.  Cheese that is almost past its prime, last weeks leftover veggies all are good things to experiment with when making Risotto.  I always have homemade stock in my freezer so all I really need is a few items to whip up a tasty dinner.
Full Recipe