This is my frozen dinner.  I love fresh fish, but sometimes I don't have the time or the funds to run out to the fish monger and pick up some fresh fish.  So a good stand by to have in the freezer is Tilapia.  I know it's not the most exciting choice of fish, but it was in my freezer and I decided to have a simple dinner.  Basically my plan was to thaw the Tilapia, and then give them a panko crust and pan fry them up.  Simple enough right?
Well after doing some pondering I noticed I had some fresh tomatoes in the freezer.  I purchased them a few weeks back from a local farmers market.  I was not eating them fast enough and to avoid them getting tossed I froze them.  I think the ideal thing to do would have been to slow roast them then freeze them, but turning the oven on in this heat is not an option.  So the beauties ended up in the freezer.
I decided to make a sauce with the tomatoes to go along with the Tilapia.  I was able to use fresh basil as we have it growing on our balcony.  The onion and garlic seemed like a natural fit to this sauce along with briny capers and fresh lime juice.  The sauce can be made with cream or with chicken stock for a healthier alternative.
If you find your self in a rush this is a great Tilapia recipe.  You actually don't even need to make the sauce at all.  The breading on this fish can stand on it's own just fine, but if your like me food is a celebration and a nice tomato-basil sauce is just what your dinner needs.
Ingredients:
2 garlic cloves, chopped
2 Roma tomatoes, diced (fresh or freshly frozen)
¼ cup cream for a rich sauce, or ¼ chicken stock for a lighter sauce
6 fresh basil leaves, chiffonade
1 small red onion, small dice
1 Tbsp lime juice, about ½ a lime
1 Tbsp capers
4 Talapia fillets
1 egg
¼ cup white flour
½ cup panko bread crumbs
½ cup grated parmesan cheese
½ tsp granulated garlic
kosher salt
freshly grated black pepper
4 Tbsp cooking oil
1 tsp olive oil
Method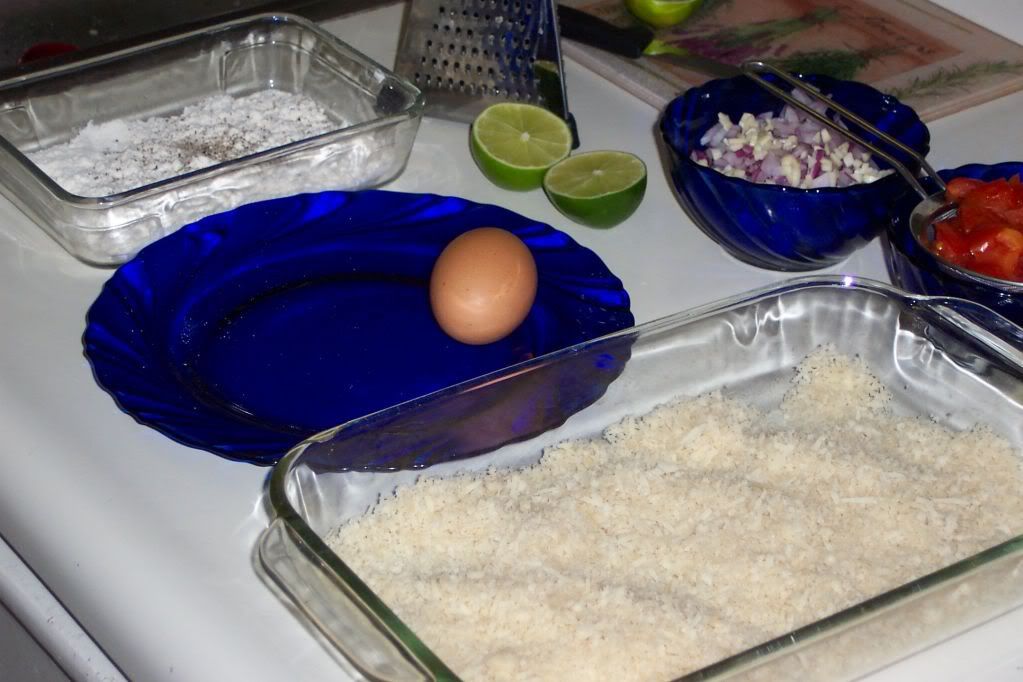 Set up a dredging station for your fish.  Combine the flour with some kosher salt and black pepper in one dish.  Crack and beat an egg in the next dish.  Mix the panko bread crumbs with the parmesan cheese and granulated garlic in the third dish.
Turn a large frying pan onto medium high heat.  Turn a small sauce pan onto medium heat and add the olive oil, onions, and garlic.  Saute the onions and garlic till they are soft and semi translucent.  Once the large frying pan is hot and the 4 tablespoons of cooking oil.  Take your tilapia and dredge it into the flour, and then into the egg, and then pat it into the panko mixture.  Set the tilapia on a wire rack and do the same process for the remaining fillets.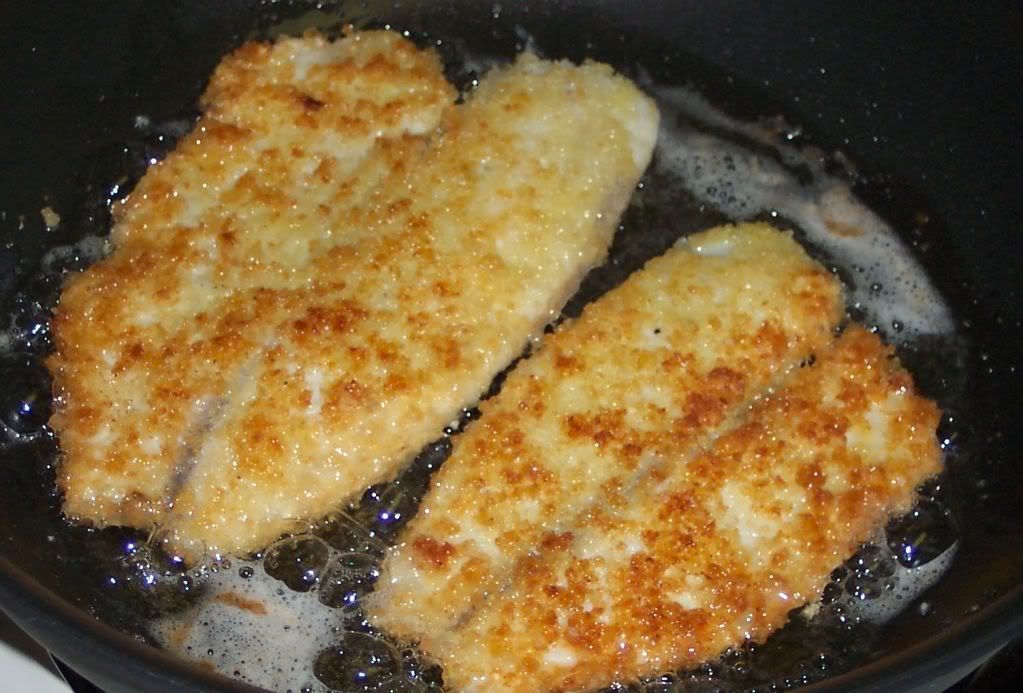 Fry the tilapia for 3 minutes aside. My frying pan allows me to fry two tilapia fillets at a time.  To keep them warm while I fried the last two fillets I placed them in a 200 degree oven.
Once you start frying the tilapia you can add cream/stock to the onions and garlic.  Once the cream heats up add the capers and tomatoes.  Mix in the basil and lime when you are ready to serve.  After you add the lime and basil taste the sauce for seasoning.  It may need some salt and pepper.  Enjoy!
Serves 4